If you've been in the field service industry for a while, you know how important it is to use quality management software. A good tool allows you to coordinate many components of field operations from a single platform. For instance, the five most requested features of a field service management (FSM) solution include scheduling, work order management, job in progress tracking, job management, and service history tracking. Any decent field service tool at least manages those five things and does it will.
With a well-designed platform, your business efficiency and customer service improves — and so does your revenue. This is what Gartner discovered when they surveyed 35 companies in different field service industries that had implemented a field service management (FSM) solution. On average, the software paid for itself in nine months. The highest reported improvements were a 60% increase in technician efficiency and customer satisfaction.
And these results were just the averages across different solutions. As with any investment, you'll see a better return when you choose the right tool for your company.
So how do you know what the right field service tool is? When you're comparing different solutions, one place to start is looking at industry trends. This awareness will help you choose a solution that will offer the most value over a long period of time. In this post we look at six industry-leading trends and important features to look for in a FSM solution.
Three Important Trends in Field Service Technology
1. Software-as-a-Service offers the Most Versatile Solutions
Software-as-a-Service (SaaS) solutions are hosted online (or in the cloud) by the vendor as opposed to software you need to install on your own networks and computers. SaaS products are subscription-based and usually come with customer support built into the monthly or annual fee.
When you're managing a field service operation, one of the most important factors of picking a tool is whether you can actually use in the field. This is the biggest advantage of SaaS solutions over those you can only operate from your office. As you'll see when we look at the benefits of mobile apps, as well as features like automated invoicing, your ROI dramatically increases when technicians have easy access to your management tool.
This is just one of the reasons why more field service companies are moving to SaaS platforms. Blumberg Advisory reported that the cloud-based FSM market was valued at $1.2 billion in 2017, and they anticipate that number to double by 2022.
Benefits:
Saas solutions allow you to use the technology from any device (including in the field).
They require less time and resources to set up and manage.
It's easier to scale with a SaaS solution as your company grows.
SaaS software more easily integrates with other tools, such as CRMs and accounting software
2. Mobile-Friendly Solutions Provide New Value for Technicians
There are many reasons why over half of field-service companies believe that investing in mobile technology is critical to their performance. Mobile technology provides workers in the field access to valuable troubleshooting resources, as well as offering many ways to improve customer service.
Nasrin Azari, CEO of Mobile Reach, also explains how mobile apps can keep field technicians safe: "When it comes to the mobile applications technicians use every day, simplified screens, background automation, and simplified error handling reduce the likelihood of an accident."
Benefits:
Being able to collect data in the field increases job accuracy
They can improve time management in the field and keep customers informed of technician's arrival times
They give technician's access to a customer's history and troubleshooting resources, as well as access to other team members
They improve customer service by providing immediate estimates and invoicing
3. Integrations with Other Software
Field service business use a number of tools to manage their companies, including accounting software, inventory management solutions, customer relationship management tools, as well as your social media platforms. When a field service tool integrates with these other tools, it saves you the hassle of entering information twice.
For instance, we've found that by allowing our customers to sync their invoices and payments information from HouseCall Pro to Quickbooks, we're saving our customers an average of fifteen hours a week on redundant paperwork.
Benefits:
Less employee time spent on paperwork
More information available to all systems can create better reports and overall improved functionality.
Four Features to Look for In Field Service Solutions
Hopefully you see the value of mobile-ready SaaS solutions, but even then, there are dozens of tools on the market to choose from. When you're comparing FSM platforms, it's important to know what popular features might be giving other companies a competitive advantage, as well as what features your customers are coming to expect. Here are four popular features to look for in a field service platform.
1. Live Chat Improves Customer Satisfaction Rates
Fewer customers want to call for customer service. One study found that 42% of customers prefer live chat over the phone. Not only do they prefer chat over phone, but they're also most likely to be satisfied with the experience. According to a report from Zendesk, 92% of customers gave the experience a positive rating compared to just 88% who used voice service and 85% using email.
Satisfied customers are more likely to stay customers, which is why live chat functionality can improve your customer retention rate.
Another benefit: more leads. Thornton and Grooms, a heating, cooling, and plumbing company in Michigan, receives about twelve leads per day via live chat. According to their marketing director, the majority of those leads become customers.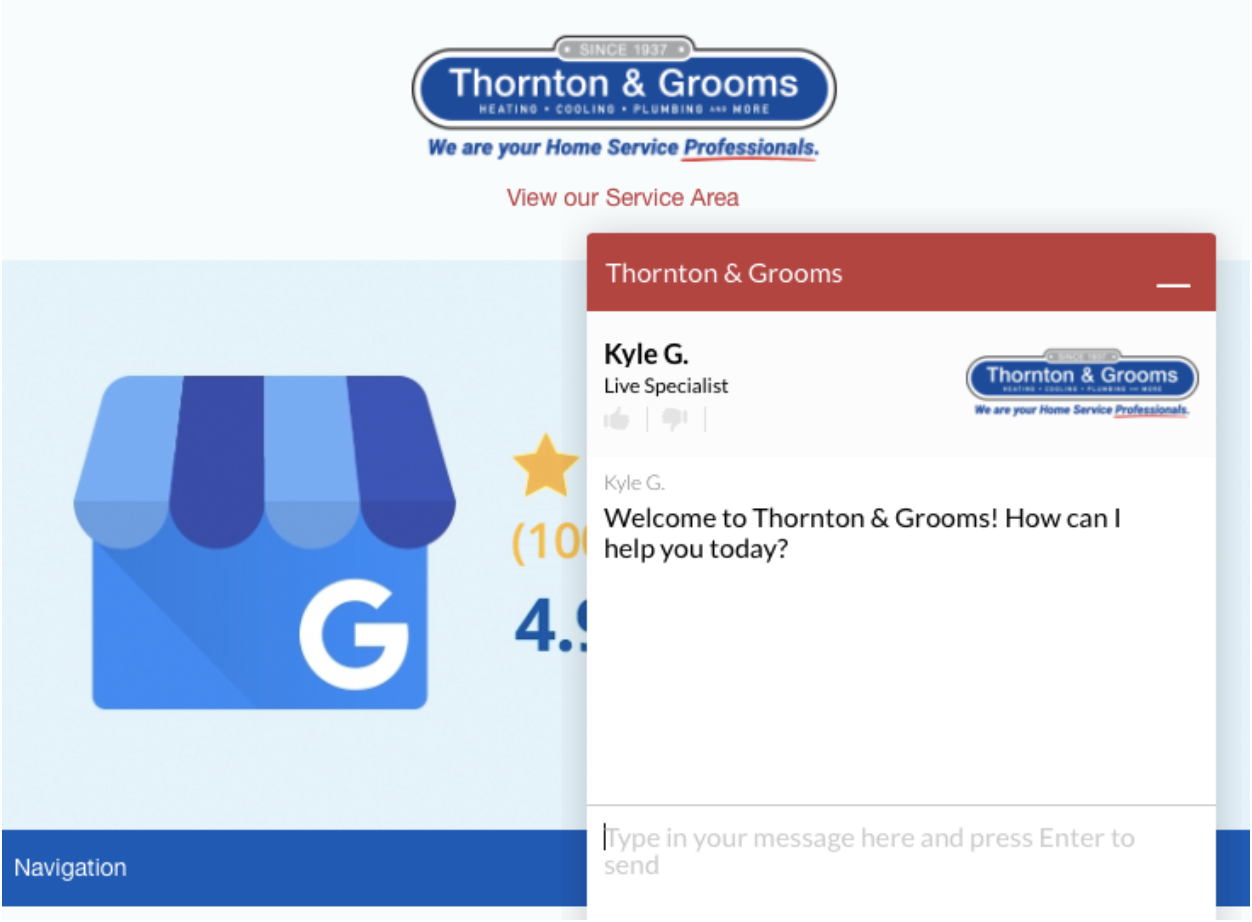 ROI: Improved customer retention, more customer leads.
2. GPS Tracking Improves Technician Punctuality
Another feature that improves customer retention is GPS tracking. According to a survey by Software Advice, nearly 70% of customers polled wouldn't rehire a company whose technician was up to an hour late. A quarter of them had a cut-off time of 16-30 minutes.
GPS tracking can help keep workers on time by increasing accountability, as well as the ability to make scheduling and route changes in real time.
An overwhelming 95% of field service companies that implemented GPS tracking saw an improvement in their technician's punctuality. They also found decreased fuel costs, as well as an increase in work orders completed per day.

ROI: Improved customer retention, increased number of finished work orders.
3. Automated Invoicing Gets You Paid Faster
Take information captured by your technicians in the field, and immediately send follow-up info or requests for payments to the customer via email. Automating this process reduces the time and cost of invoicing. It also improves accuracy, since paper invoicing requires more steps where something can go wrong.
Automated invoicing reduces costs, such as employee hours. One study found that moving from paper invoices to online invoices reduced the cost of each transaction from $20 down to $4.
They also help you get paid faster. Aberdeen Group found that the average service-to-payment cycle is 34 days. Having lots of open invoices can create a cashflow bottleneck.  Sending invoices via email, as opposed to paper invoices via mail, reduces this payment cycle.
Field service tools that allow technicians to invoice in the field significantly shortens that payment cycle even more, especially if they can take payments directly from the customer.
Your customers are getting used to taking payments via mobile devices. Juniper Research predicts that mobile payments will make up almost a quarter of all point-of-sale transactions by 2023, estimating 87 billion transactions annually.
ROI: Faster payments with less associated costs, improved accuracy of invoices, improved customer satisfaction.
Online Booking
Just like live chat, 70% of consumers want to book services online rather than over a phone. Whether they're on your website, on your Facebook page, or browsing your Yelp reviews, ideally you want customers to be able to see your availability and book your services.
Using online booking can dramatically increase the number of service requests. By adding convenience to your customers, it also aids in customer retention and satisfaction.
Online booking also saves employee time by automating the workflow. As soon as a customer creates a service request, technicians can be automatically assigned the job and have access to the customer's history.
ROI: Improved customer retention and satisfaction, reduced employee time spent on the phone and scheduling work orders.
Some Benefits are Harder to Track
Some of the benefits of a good FSM tool are easier to track than others. Once you've implemented a solution, you can compare the amount of work orders completed, the average amount of time per job, compare monthly revenue, and use surveys to gauge its impact on your customers.
Other benefits may be harder to track, but just as important. For instance, a good system that improves workflow can reduce the stress of your employees and make their jobs easier boosting company morale. Well-designed technology can be easier to learn and reduce the time it takes to train new employees.
And finally, having better work reports and statistics can give you a better sense of how your company is doing and what you can improve.
Overall,  the benefits (and ROI) of having the right field service solution — one that's cloud-based and mobile-ready add up when you start to consider improvements to workflow, technician's accuracy, customer satisfaction and retention, and employee satisfaction. If you're looking for a field service solution that offers the features live chat, GPS-tracking, as well as scheduling and dispatch, estimates and invoicing, online booking, and many other services you need to run your field service business, try out HouseCall Pro.